Special products
• PTL MH30FD, circular access door
• Pneumatic access door
• Electric access door
• Footbridge
• Metalworking
• PTL4000 UV Access door
Access doors - Series 4000
PRETAL 4000 series, were develop to access UV desinfection
lamp. They are designed with a frame to be cast in concrete.
They are available in aluminum, the frame is built from a precision
extrusion.
The series 4000 access door is available with double leaves
installed face to face. They have a capacity of 2.2kN.
In certain case, when the aren't enough space with the lamp in
a upright position to open the leaves, we add a folding section.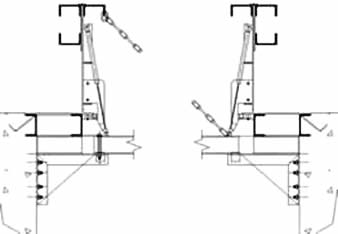 Each hatch PTL4000 are custom fabricated according to the dimension supplied by the UV system manufacturer.
Complimentary accessories for the access door PTL4000
Removable handrails PTL055, PTL060, PTL065
Required specifications
The access door shall be model PTL4000 with 2 leaves made from
AL as provided by PRETAL standards and the size being specified
on the plans.