Fabrication - Latches - Back
All PRETAL access doors series 1000 and 2000 are supplied with a security latch. This latch is automatically engaged when the leaf is closed. The latch is free from the inside with a permanently installed lever and from the outside with a removable handle. The latch mechanism and hardware are fabricated of 304 stainless steel.
Latches for series 3000 doors are of the same construction except
with a permanently installed lever on the outside. Corner locks are available for access doors series 3000 when a large leaf is installed.
Access doors series 2000 are available with an integral and enclosed lockable hasp for use with a padlock.
Series 3000 double leaf
Series 1000, 2000 and 3000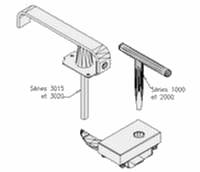 Additional locks for Series 3000